Provençal style fittings and furniture
Falegnameria Dario Biagioni - Florence
Provençal style decor accessories
Our furniture can be made with new wood or recycled old wood (fir, oak and poplar), treated with the following techniques:
decapè
cérusé
moiréd oil lacquers.
Most of the products we use are natural, such as: pure pigments, linseed oil, water-based tempera and rabbit skin glue.
Provençal style is the expression of an artistic form which evolved in a specific region of the south of France, Provence, a land of typical Mediterranean products such as olive oil and wine, fields of wheat and sunflowers, but with the addition of a special plant: lavender, whose perfumed expanses colour the summer countryside.
In the past, Provence was where textiles from India arrived in Europe, and so the region's earth and pigments were used for dyeing the fabrics.
Colours are at the heart of the Provençal style, in decor accessories too, and it is the pale yet opaque tones like powder blue and sage green which give furniture perhaps a similar simplicity of form to our Tuscan style but without the austere look of solid wood uncoloured and finished with shellac and wax.
I believe that it's precisely the simplicity and warmth that characterise the Provençal style which explains why many people choose it today for part of their home, or even just one piece of furniture. My intuition suggests that this collective desire could be a wish to rediscover the simplicity of country life in a modern context where traditional warmth is disappearing.
And so the desire to encapsulate the rusty bolt, the flaked paintwork, the coloured shutters and the worn table in an emotion made of colours and shapes creates an effect where precisely the most rusticated elements become harmonious, removed though they are from their own perfection.
The same worn look resulting from the décapé technique also characterises another decor style which today is defined as 18th century revival, however here the use of colour is reduced to a range of greys, whites and doves, thus better suited to more elegant and refined spaces.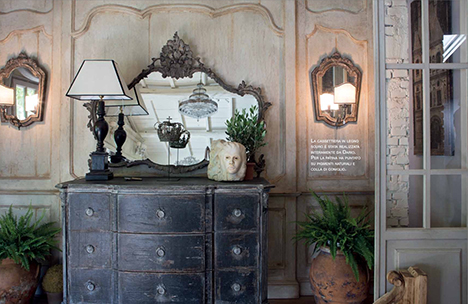 Provençal style
Laquered bridge wardrobe
Provencal complements
Provencal complements
Provencal complements
Old pharmacy
Belief (mod. Lourges)
Lacquering